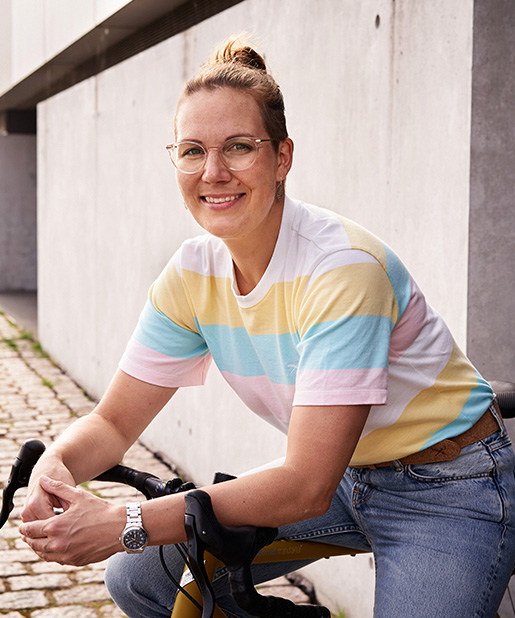 Brand ambassador Johanna Jahnke
"I am really looking
forward to working with
vsf fahrradmanufaktur."
Update 14-05-2021 » Update 11-08-2021 » Update 14-11-2021 »
Tradition meets modernity.
Brand ambassadorer Johanna Jahnke.
Hamburg resident Johanna Jahnke, a biking podcaster and sports cyclist well known on the scene, has been a brand ambassador on the vsf fahrradmanufaktur team since April 2021. With her extensive experience of long-distance racing, bikepacking tours and as a racing bike trainer for FC St. Pauli, she also contributes her expertise in an advisory capacity in the field of product development.
"My first city bike, which I bought when I was 22, was made by vsf fahrradmanufaktur and I have felt connected to the values of the brand for a long time. And the opportunity to be part of new developments is very exciting for me. I can really say it's a dream come true."
Johanna Jahnke

Update, 14-04-2022
Johanna and the development of the Gravel Series
The strictly limited 1st edition of our gravel bike GX-1200 is a great success and has generated unexpected levels of excitement even outside of the gravel and bike-packing scene. We will not rest on these laurels, however, but are working together with Johanna on the further development of the GX-1200 and a whole gravel series.
The goal is soon to have several gravel bikes for different needs and budgets, without neglecting the constant high demands at vsf fahrradmanufaktur for quality, functionality, and durability.
In the meantime, Johanna has covered hundreds of kilometres on the GX-1200 and knows exactly what sets the hearts of the gravel community aflutter. Whether it's the frame, fixtures, gears, brakes, design, or the rest of the fittings – every aspect becomes part of the overall planning of a model. Because one thing is clear:
a well-functioning gravel bike is more than the sum of its parts.
Update, 14-11-2021
Johanna rides Hamburg – on the T-700
Even if our brand ambassador Johanna Jahnke especially enjoys riding her prototype of our new gravel bike, the GX-1200 1st Edition, she remains loyal to her T-700 trekking bike for day-to-day travel in Hamburg. Because anyone who, like Johanna, makes practically every journey in the city by bicycle needs a reliable set of wheels that can handle the everyday stresses and strains.
That is why Johanna is currently riding for "weridehamburg" a cool social media initiative showing you the jewels of the port city from the cyclist's point of view. And while Johanna takes on St. Pauli, the Speicherstadt and Hafencity, she constantly gathers impressions of the cycling experience, thinks about possible improvements and then gets in touch with our development department.
Update, 11-08-2021
Johanna and

"Radelmädchen" on a Northsea tour.
We developed the limited 1st edition of our new GX-1200 together with Johanna to launch a new range of gravel bikes. The uncompromising high-quality debut bike, with its exclusive German-made steel frame, has been fitted without compromise with the highest-quality gravel-specific fixtures.
Now, when the day is done, Johanna is also "at home on the road" on her prototype GX-1200 1st Edition. Together with her friend, the blogger "Radelmädchen", she went on an extensive North Sea tour on the occasion of the bike's first presentation to the public. A trip that was practically made for our new gravel bike.
A North Sea tour – with a detour
After precise planning using the mapping app "Koomot", Johanna and "Radelmädchen" Jule set off in the best bikepacking style from Hamburg to Nordenham on the North Sea – going on to Glückstadt and then back to Hamburg. There was one important detour: presenting the limited 1st edition of the new GX-1200 at the vsf fahrradmanufaktur in-house fair in Oldenburg.

On their tour, the pair not only had a lot of fun, they were also able to share many interesting, impressive and strange experiences – whether on the road or at our place in Oldenburg. You can find out what the pair discovered in "Radelmädchen" Juliane's blog.
Who, what, when, where, why?
Anyone who's met our brand ambassador Johanna Jahnke knows that she doesn't just want to ride her T-700 as the face of the brand, but also intends to bring her experience, knowledge and sustainable outlook on life into the brand. Because a person like Johanna, who is always on two wheels in her private and sporting life, who has taken part in countless bikepacking tours and even tested her bicycle's and her own limits in the 4,000 km Transcontinental Race, is someone with a true passion for bicycles. And that is why she is right at the heart of our development and testing processes for the exciting new sporting innovations we have planned.
"That's really, really good already, but... ?"
It's questions like these, her inspired suggestions, inquisitiveness and her need to ensure that a bicycle functions as perfectly as possible that she uses to stimulate discussions on technical optimisation that give even our most experienced builders and developers pause for thought. In doing so, she provides the team with valuable, constructive tips and enlivens the development process in her inimitably sympathetic way.
Cooperation with Portus Cycles – finest craftsmanship in steel frames
Brand ambassador Johanna Jahnke is currently supporting two new developments, both in collaboration with Portus Cycles in Pforzheim – a small, high-quality smithy producing exclusive prototypes and small series of steel frames. The team surrounding the founding father of Portus Cycles, Alex Clauss, is well known on the scene for its high-quality developments, unusual small runs and – like vsf fahrradmanufaktur – its love of steel. Together with Johanna Jahnke, we were able to look over Alex and his team's shoulder in the implementation of our new projects – a real delight for lovers of German craftsmanship in frame construction.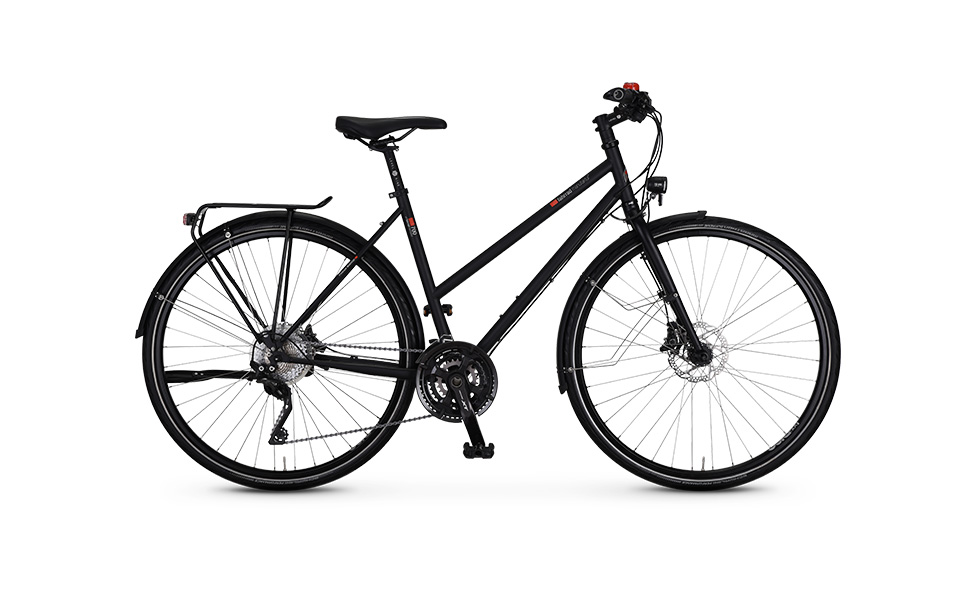 Johanna Jahnke.
On the road on the T-700.
Training, racing, touring and travel or just day to day. Johanna is at home on her bicycle and uses many different models on the road. With her penchant for sustainable products, she deploys our classic trekking bike T-700 in St. Pauli as a "city bike".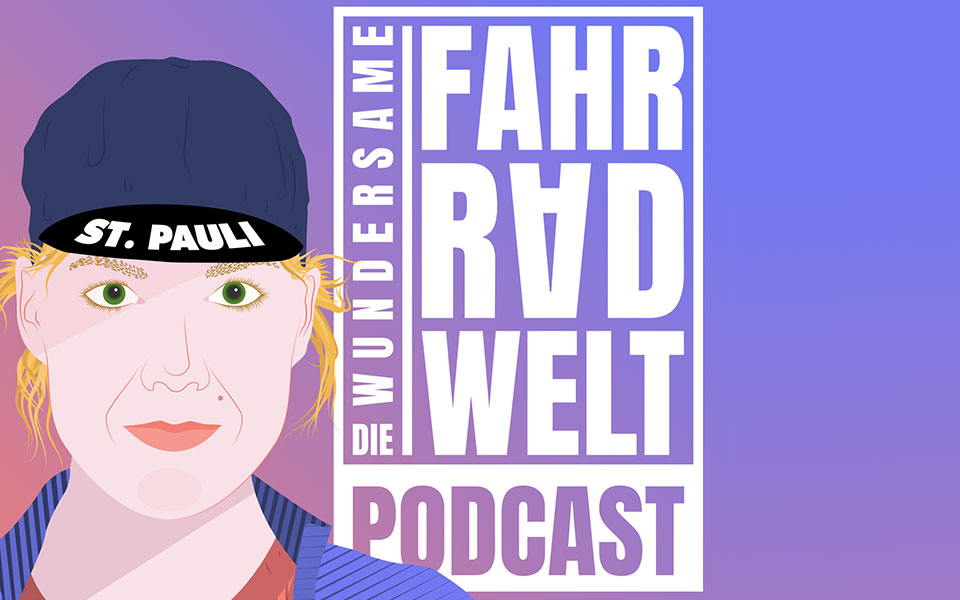 "Die Wundersame Fahrradwelt"
Week after week, Johanna inspires listeners to her well-known podcast "The wonderful world of bicycles" ("Die Wundersame Fahrradwelt"). Whether it's bikepacking, racing or product and component trends – in her podcast, the bike lover covers many different topics and interviews interesting people from the cycling scene.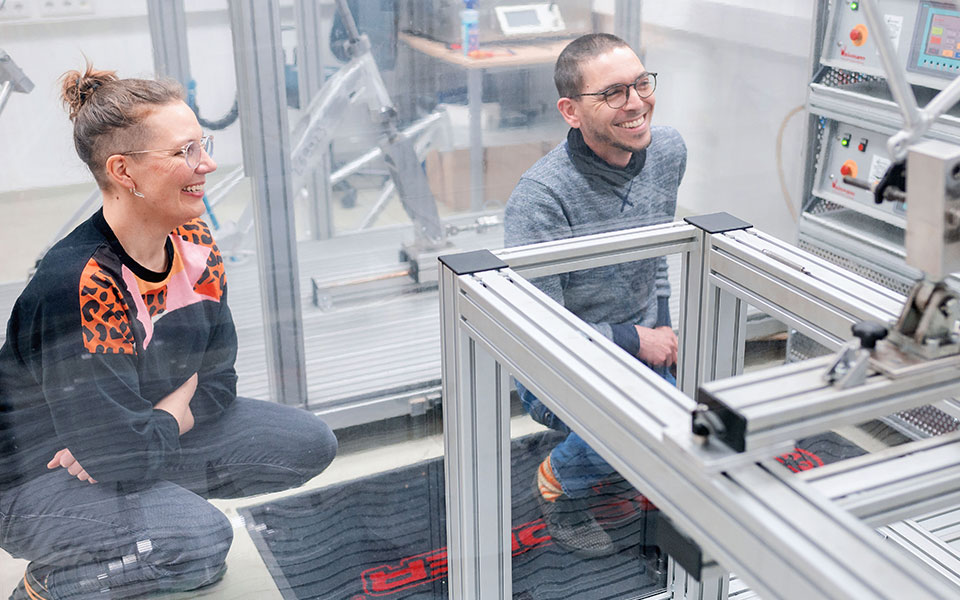 Johanna in model developement.
For us, she not only puts the T-700 and other prototypes through their paces, but also tests out many other technical innovations and developments from vsf fahrradmanufaktur. And she also supports us in model development thanks to her contemporary, socially conscious view of the bicycle.
Johanna Jahnke and her T-700