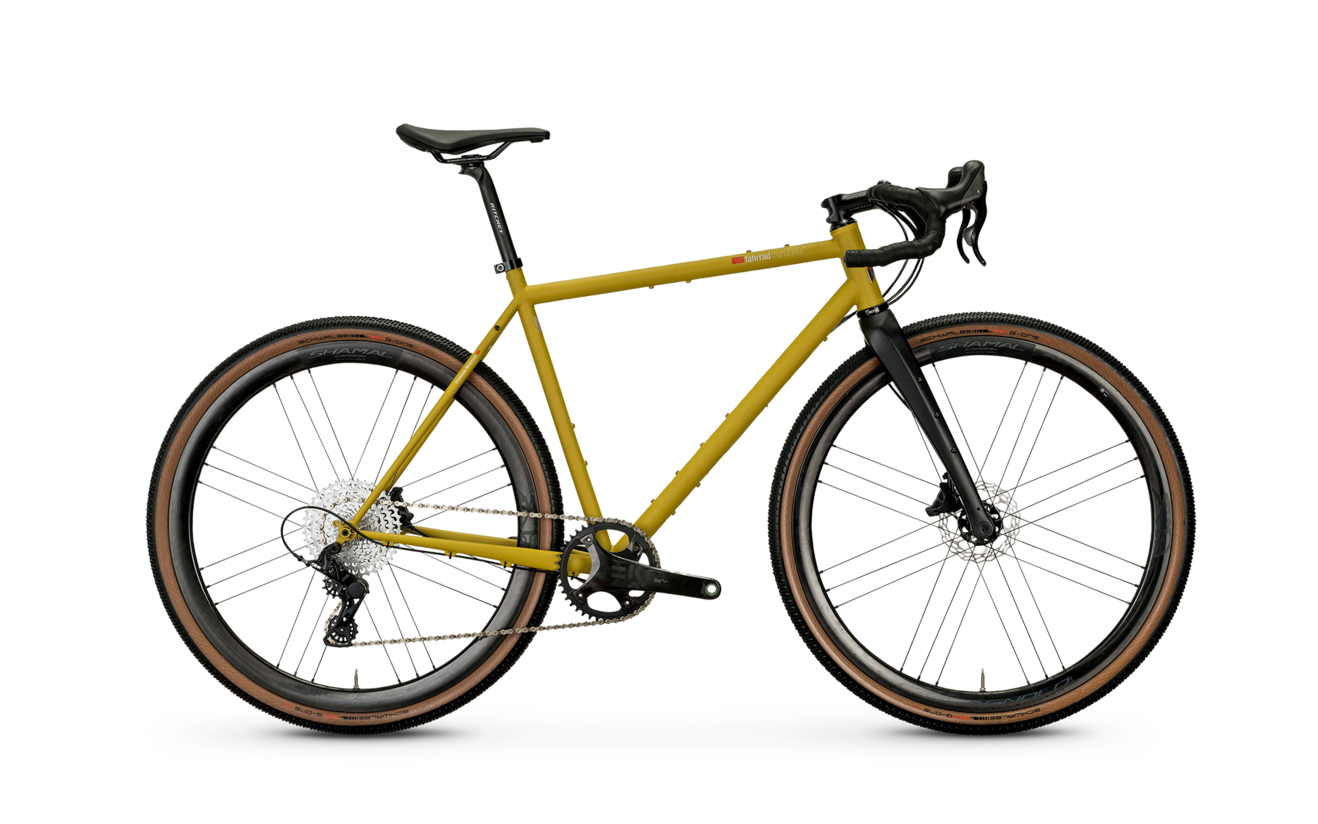 GX-1200
Campagnolo Ekar 13-speed / Disc
In view of vsf fahrradmanufaktur's 35th anniversary, we are introducing a completely new product category with Gravel Bikes. For the launch, we have come up with something special: The limited 1st Edition of the new GX-1200 is based on the finest craftsmanship of a German forge for exclusive steel frames. The uncompromisingly high-quality gravel bike debut was developed together with brand ambassador Johanna Jahnke and equipped in the limited edition exclusively with the finest gravel-specific attachments. 
Matching the Columbus steel frame, the Columbus Futura carbon fork designed for Gravel Bikes is a visual treat and complements the variety of mounting options of the exclusive Gravel Bike: mounts for saddle and frame bags, mudguards and up to 6 bottle cages as well as luggage racks. 
Switched with the "Non-Plus-Ultra" in the Gravel segment, the Campagnolo Ekar 1x13. With 13 gears, it offers impressive performance from high speed to the big "lifebuoy". Matching, Campagnolo Shamal carbon wheels are mounted. 
Lightweight construction and excellent ergonomics offer WCS carbon attachments from Ritchey - the Venturemax handlebar with discreet flare allows comfortable grip positions even on long rides. A carbon seatpost with noticeable flex supports the incomparable ride comfort of the steel frame. 
Framesize

Diamant 28": 48, 51, 54, 57, 60 cm

Frame

25 CrMo 4, Columbus Zona, double butted

max load

120 kg

Colour

dirty mustard glossy

Head set

Acros AZX-228, 1 1/8"-1,5", External Cup

Fork

Columbus Futura Cross+, Carbon, 12 x 100 mm, Flatmount, tapered,

Shifting System

Campagnolo Ekar, 13-speed, Clutch lock

Derailleur

N.V.

Brakes

Campagnolo Ekar (front 160 mm / rear 160 mm), Flatmount Disc brake

Headlights

N.V., N.V. LUX

Rear light

N.V.

Carriers

N.V.

Saddle

Brooks Carved C13, Carbon-rail, 145 mm wide, black

Seat post

Ritchey WCS Carbon Link Flexilogic, 27,2 mm, 350 mm

Pedals

N.V.

Kickstand

N.V.

Chainguard

N.V.

Mudguard

without, N.V.

Weight

9,3 kg

Stem

Ritchey C-220 Matrix WCS Carbon, 6°, (70 / 70 / 70 / 90 / 90 mm)

Handlebars

Ritchey Venturemax WCS Carbon, Flare 24°, (420 / 440 / 440 / 460 / 460 mm)

Grips

Brooks Cambium, 3,0 mm thick, black

Shift lever

Campagnolo Ekar, 13-speed, Ultra-Shift

Brake lever

Campagnolo Ekar, 13-speed, Ultra-Shift

Tires

Schwalbe G-One R, 45-622

Spokes

Campagnolo Shamal Carbon

Front Hub

Campagnolo Shamal Carbon, 12 x 100 mm, Disc , 24 holes

Rear Hub

Campagnolo Shamal Carbon, 12 x 142 mm , Disc, 24 holes, N3W

Sprocket

Campagnolo Ekar, 13-speed, 10-44 teeth, N3W freewheel body

Chain

Campagnolo Ekar, 13-speed

Inner bearing

Campagnolo Ekar Pro-Tech, BSA

Crank wheel set

Campagnolo Ekar, Carbon, 40 teeth, (170 / 172,5 / 172,5 / 175 / 175 mm)

Gear ratio (front:rear)

40 teeth : 10-44 teeth

Technical changes and changes in equipment reserved, color deviations possible.
GX-1200
Campagnolo Ekar 13-speed / Disc
Diamant 28"

48 cm / 51 cm / 54 cm / 57 cm / 60 cm
Standard colour *:
dirty mustard glossy
Price (incl. Vat.)
2,051.62 €
Campagnolo Ekar.
Schalten next Level. Mit der Ekar 1x13 Gruppe hat Campagnolo einen ganz großen Wurf gelandet. Die speziell für den Gravel Einsatz entwickelte Schaltgruppe ist nicht nur die leichteste ihrer Art, sie ist auch in Sachen Schaltperformance das Non-Plus-Ultra.
Campagnolo Shamal.
Die Shamal Carbon-Laufräder von Campagnolo sind top Offroad-Allrounder – geringes Gewicht und hohes Maß an Steifigkeit. Das 2-Way Fit Profil ermöglicht sowohl die Montage von Draht- als auch Tubeless-Reifen.
Wir kombinieren diese schönen Laufräder mit schnellen, griffigen Schwalbe-Reifen "G-One R" in einer Breite von 45 mm.
Columbus Rohre & Gabel.
Die hochwertigen Columbus-Rahmenrohre in feinster "Made in Italy"-Qualität werden mit einer speziell für Gravel Bikes entwickelten Carbon-Gabel Futura Cross+ kombiniert, die ebenfalls aus dem Hause Columbus kommt.
Ritchey WCS.
Lenker, Vorbau und Sattelstütze entstammen der Ritchey World Cup Series und sind Garant für Leichtbau und exzellente Verarbeitung.
Die 27,2 mm FlexLogic-Sattelstütze dämpft spürbar. Der Venturemax Lenker bietet vielfältige Griffpositionen und dank 24° Flare beste Kontrolle und Stabilität.
Getestet von Johanna Jahnke.
Johanna hat uns bei der Bike-Entwicklung mit großem Know how unterstützt. Dabei half ihre langjährige Erfahrung im Radsport und beim BikePacking, sportliche, ausgewogene Gravel Bikes zu konstruieren. Heute fährt sie das GX-1200 begeistert bei der QoM-Jagd, auf heimischem Terrain rund um Hamburg oder auf mehrtägigen Radreisen.