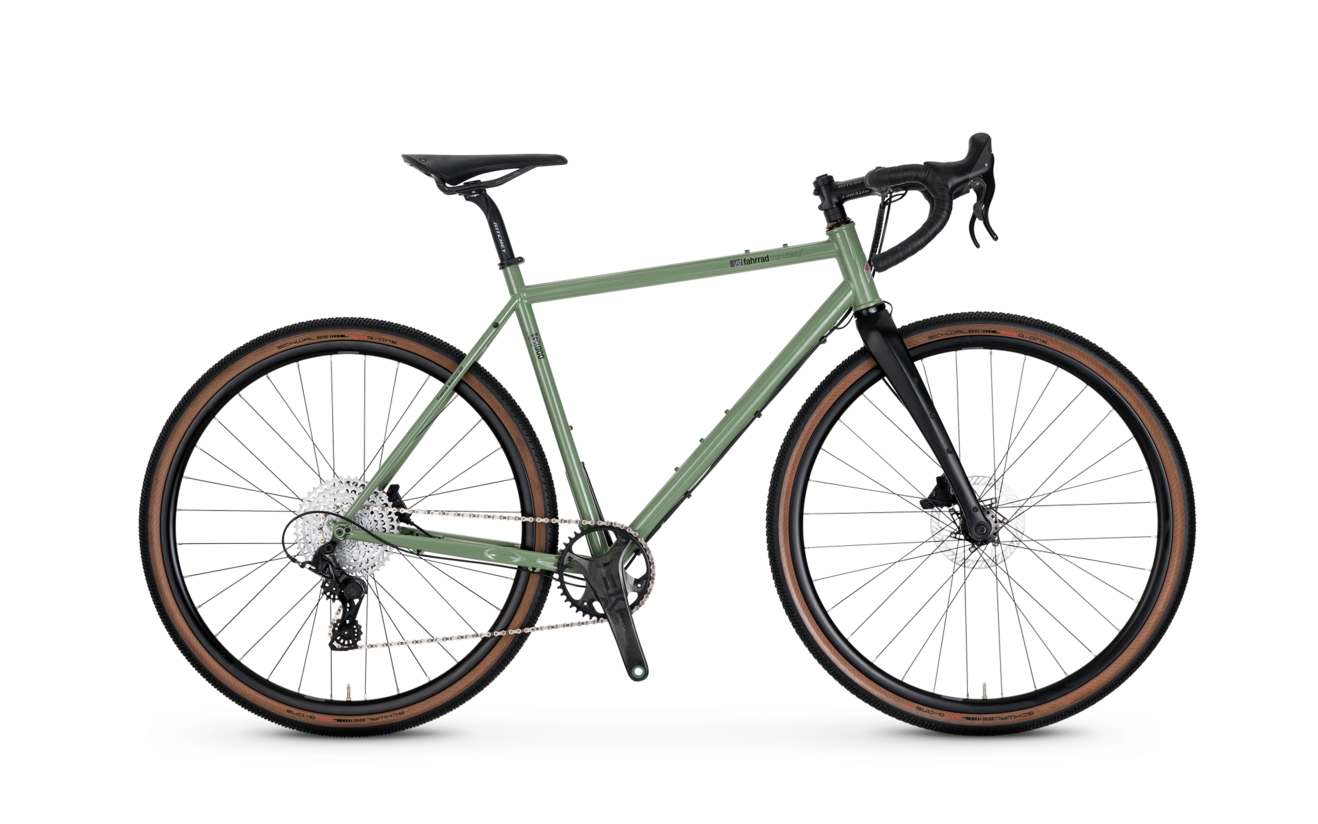 GX-900
Campagnolo Ekar 13-speed / Disc
Uncompromising gravel cycling.
Campagnolo Ekar groupset with 13-speed rear derailleur, Columbus Futura Cross Carbon fork, head- and taillight from Supernova, SON hub dynamo, super light and gravel-specific attachments of the Ritchey WCS series, Ritchey Butano handlebar with low drop and 6 ° flare: The choice of components alone impressively shows at what level the GX-900 is "at home on the road". 
The GX-900 offers the absolute top class for any gravel riding style. Whether you're at home on the long haul, riding in challenging gravel terrain or like to bike the night. 
And the icing on the cake: We have compiled a palette of 14 different colors, from which you can choose your individual favorite color.
Framesize

Diamant 28": 48, 51, 54, 57, 60 cm

Frame

25 CrMo 4, double butted

max load

120 kg

Colour

cool reed glossy

Head set

Acros AZX-228, 1 1/8"-1,5", External Cup

Fork

Columbus Futura Cross+, Carbon, 12 x 100 mm, Flatmount, tapered,

Shifting System

Campagnolo Ekar, 13-speed, Clutch lock

Derailleur

N.V.

Brakes

Campagnolo Ekar (front 160 mm / rear 160 mm), Flatmount disc brake

Headlights

Supernova E3 Pure 3, 205 lumens, N.V. LUX including standinglight

Rear light

Supernova E3 Tail

Carriers

N.V.

Saddle

Brooks Carved C15, Carbon-Rail, 140 mm wide, black

Seat post

Ritchey WCS Carbon Link Flexilogic, 27.2 mm, 350 mm

Pedals

N.V.

Kickstand

N.V.

Chainguard

N.V.

Mudguard

, N.V.

Weight

11.4 kg

Stem

Ritchey C-220 WCS Aluminum, 6°, (70 / 70 / 70 / 90 / 90 mm)

Handlebars

Ritchey Butano WCS Aluminum, Flare 12°, (400 / 420 / 440 / 460 / 460 mm)

Grips

Brooks Cambium, 3,0 mm thick, black

Shift lever

Campagnolo Ekar, 13-speed, Ultra-Shift

Brake lever

Campagnolo Ekar, 13-speed, Ultra-Shift

Tires

Schwalbe G-One R, 45-622

Spokes

Niro 2,0 mm black

Front Hub

SON 28, 12 x 100 mm, hub dynamo, Centerlock, 32 holes

Rear Hub

Campagnolo, 12 x 142 mm , Centerlock, 32 holes, N3W

Sprocket

Campagnolo Ekar, 13-speed, 10-44 teeth, N3W freewheel body

Chain

Campagnolo Ekar, 13-speed

Inner bearing

Campagnolo Ekar Pro-Tech, BSA

Crank wheel set

Campagnolo Ekar, Carbon, 40 teeth, (170 / 172,5 / 172,5 / 175 / 175 mm)

Gear ratio (front:rear)

40 teeth : 10-44 teeth

Technical changes and changes in equipment reserved, color deviations possible.
GX-900
Campagnolo Ekar 13-speed / Disc
Diamant 28"

48 cm / 51 cm / 54 cm / 57 cm / 60 cm
Standard colour *:
cool reed glossy
Price (incl. Vat.)
2,051.62 €
Getestet von Johanna Jahnke.
Johanna hat uns bei der Bike-Entwicklung mit großem Know how unterstützt. Dabei half ihre langjährige Erfahrung im Radsport und beim BikePacking, sportliche, ausgewogene Gravel Bikes zu konstruieren. Heute fährt sie das GX-1200 begeistert bei der QoM-Jagd, auf heimischem Terrain rund um Hamburg oder auf mehrtägigen Radreisen.
Next level.
Mit der Ekar 1x13 Gruppe hat Campagnolo einen ganz großen Wurf gelandet.
Die speziell für den Gravel-Einsatz entwickelte Schalt- und Komponentengruppe ist nicht nur die leichteste ihrer Art, sie ist auch in Sachen Schaltperformance das Non-Plus-Ultra.
Columbus Futura Cross+.
Die Gravel-Gabel "Columbus Futura Cross+" mit praktischen BikePacking-Ösen ist nicht nur ein optisches Highlight, sondern mit nur ca. 535 Gramm eine der leichtesten Gravel Carbon Gabeln am Markt.
Super hell, super schön.
Der außergewöhnliche helle Supernova E3 Pure LED-Scheinwerfer erlaubt dank flexibler Halterung auch die Montage einer Lenkertasche.
Das ebenfalls der E3-Serie entstammende Rücklicht ist klein, extrem robust und wartet ebenfalls mit hoher Leuchtkraft auf.
Schnell. Breit. Geländetauglich.
Der Schwalbe G-One R (45 mm) garantiert Speed und Traktion im Graveleinsatz.
Dank Super Race Karkasse vereint der bewährt zuverlässige Gravel-Reifen ein besonders geschmeidiges Fahrgefühl mit Geschwindigkeit und Kontrolle auf höchstem Niveau.