T-1987
A limited-edition exclusive.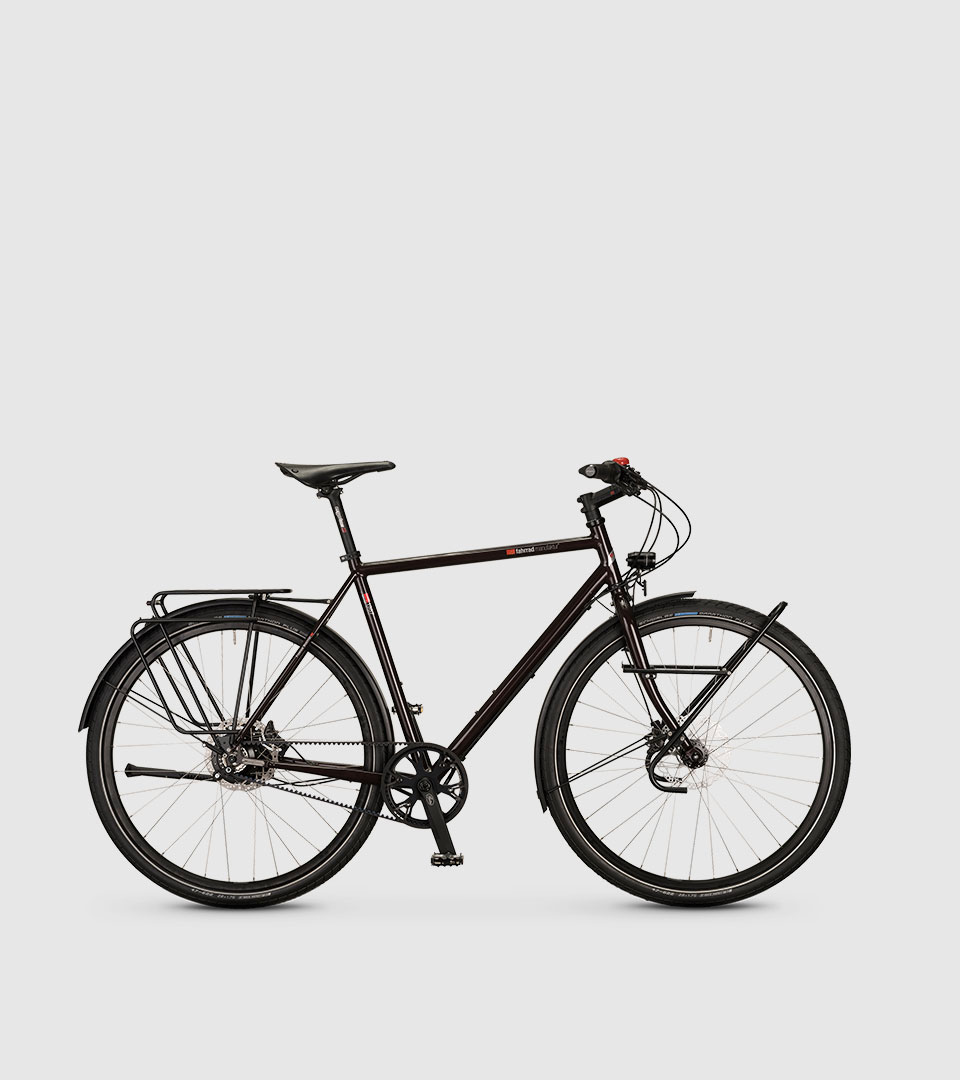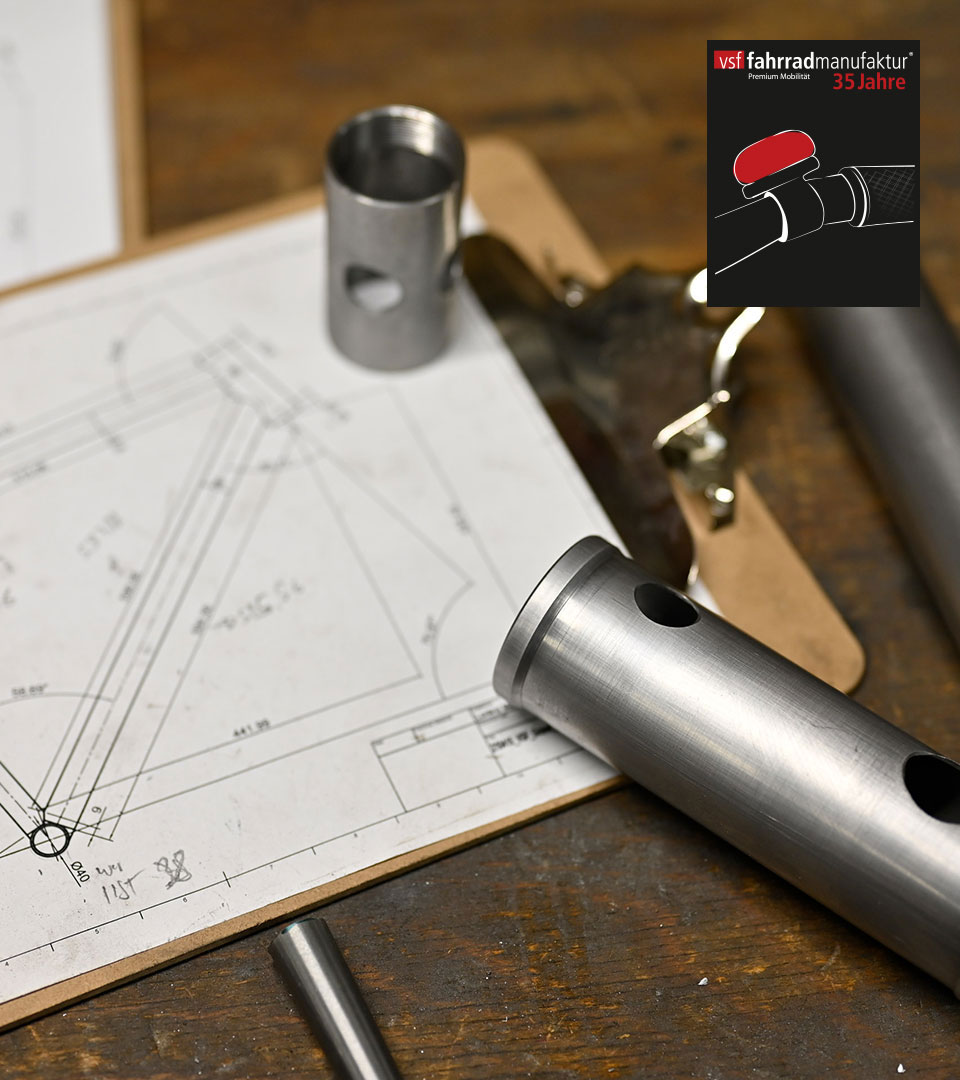 35 years of vsf fahrradmanufaktur.
The anniversary bicycle T-1987.
A limited-edition exclusive.
One model for each year: in a meticulous homage to our manufacturing philosophy and the special relationship we have always had with steel as a material for our frames, on the 35th anniversary of vsf fahrradmanufaktur we present an exclusive trekking model in a limited edition of just 35. In cooperation with an expert maker of exclusive steel frames, we have brought this unique, hand-made model into being, naming it based on the year vsf fahrradmanufaktur was founded: T-1987.
As befits such a special frame, tradition and the values of vsf fahrradmanufaktur were the inspiration – including the careful selection of the highest-quality components and fittings: durability, sustainability, comfort and quality. The result should quicken the pulse, and not just of fans of steel frames – for the limited special model T-1987 is a peak-performance trekking bicycle in every respect:
• Rohloff Speedhub 14-gear
• Gates Carbon Drive
• Shimano XT 4-piston brake
• Supernova LED-lightning (front/rear)
• Humpert Ergotec Cockpit & Skalar seat post
• Brooks Cambium saddle & Brooks grips
• Tubus Logo Evo pannier rack & Tubus Tara front rack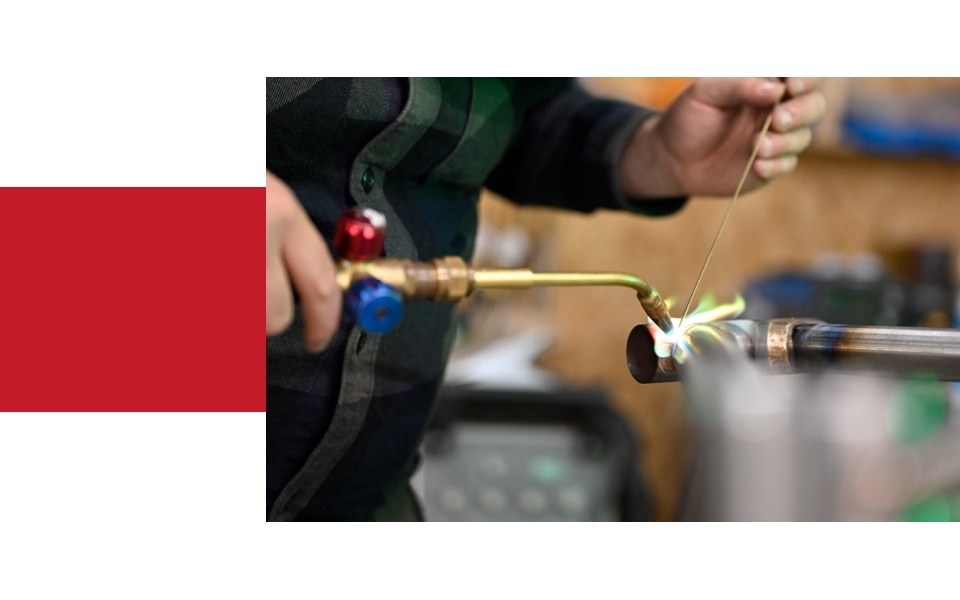 35 years of steel frames.
The core of the limited-edition T-1987 is a steel frame, hand-made in Germany to the most exacting standards. The material chosen can be shaped perfectly and offers outstanding welding properties: the ideal prerequisites for an anniversary edition which, in the best traditions of vsf fahrradmanufaktur, is not only slender and elegant but also highly resilient. The frame offers particular comfort on the road, with no front or seat suspension being necessary.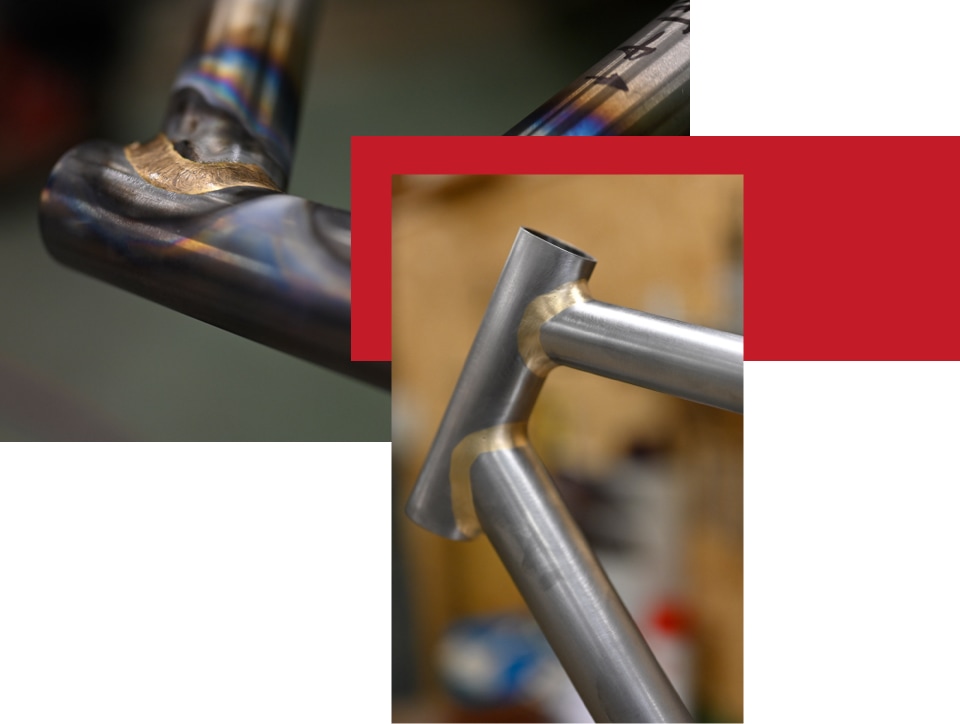 Fillet brazed –
the finest handicraft .
Unlike those of mass-produced bikes, the T-1987's frame joins are laboriously fillet brazed using a brass filler. Using this process, experienced frame-builders can create particularly harmonious, smooth, almost seamless connections – a feast for the eyes of anyone who loves a steel frame.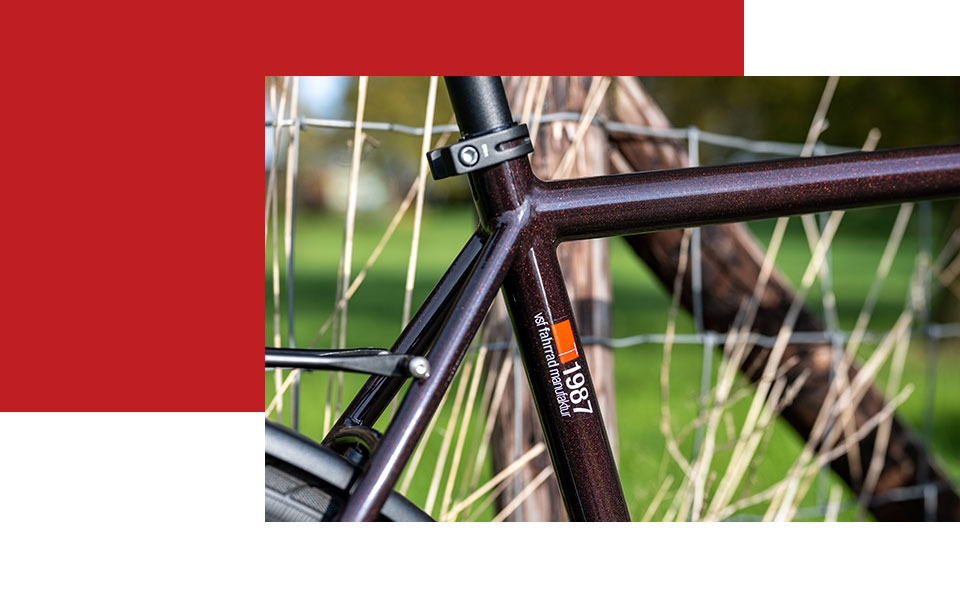 Rosso glossy. A special colour.
To emphasise the special nature of the limited frame, we present the anniversary model T-1987 in a new, exclusive paint colour: Rosso. This special-effect paint, appearing gracefully reserved on first glance, reveals its special gloss only on a closer look, or when the sunlight glances off it.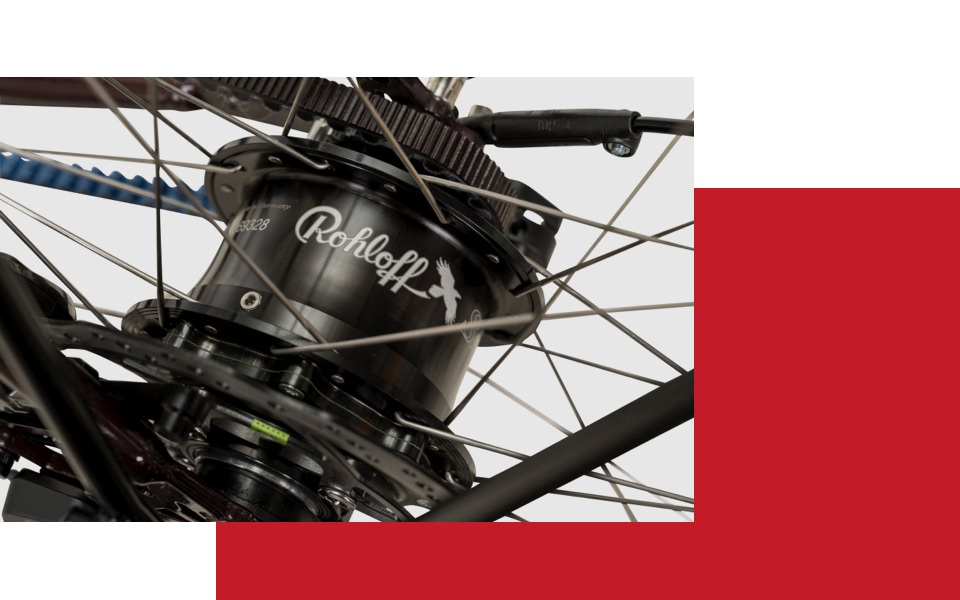 Rohloff Speedhub.
True cycling enjoyment and reliable gear-changing performance: 14 true gears, an enormous transmission range of 526 % and linear gear gradations of 13.6 %. This hub gear offers incomparable Rohloff reliability and is enormously undemanding where servicing and maintenance are concerned. All this mechanical marvel needs is a little oil from time to time.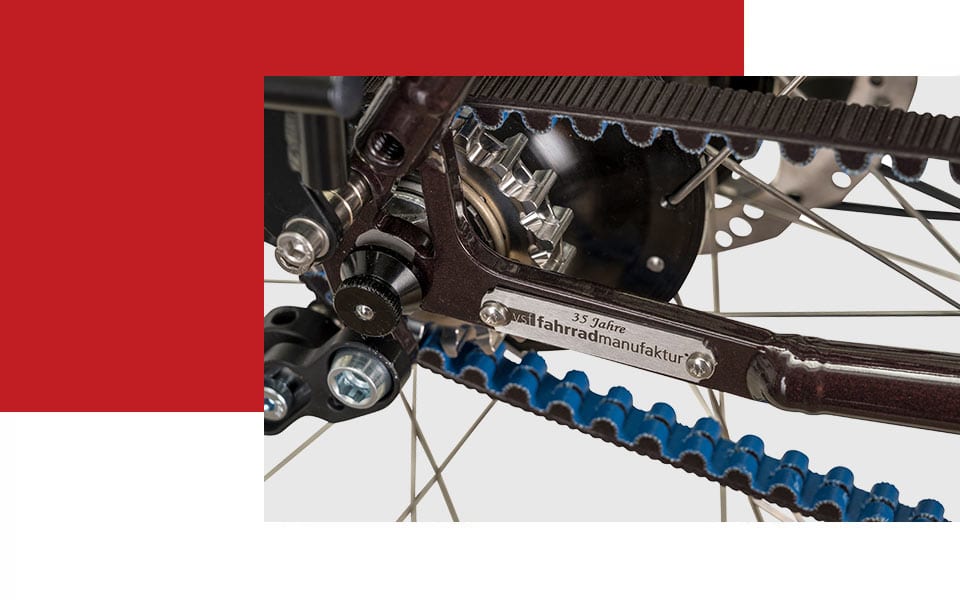 Gates belt.
Clean thing.
A direct drive feeling, no grease, no rust, low weight: discover the advantages of a carbon-reinforced belt drive from Gates. The low-noise Gates belt is sustainable, low-maintenance and has an impressively long life.
Specification
Frame size

Gents 28": 52, 57, 62 cm

Frame

25 CrMo 4, Columbus Zona

Max. load

140 kg

Colour

Rosso glossy

Ahead Set

Acros AEA-633, 1 1/8", external cup

Fork

28" 25CrMo 4, 1 1/8", ahead

Gearshift

Rohloff Speedhub, 14-gear

Brakes

Shimano Deore XT BR-M8120, (front 180 mm, 4-piston / rear 180 mm, 4 piston)

Head light

Supernova E3 Pro 2, 70 LUX

Rear light

Supernova E3 Tail Light 2

Carrier

Rack Tubus Logo Evo / Tubus Tara Low-Rider

Stand

Pletscher Comp Zoom, rear kick stand

Saddle

Brooks Cambium C17

Seat post

Humpert Ergotec Skalar, patent, aluminium, 27,2 x 300 mm, safety level 6

Pedals

VP-196, aluminium, trekking

Mudguard

SKS EVO AL, aluminium

Chainguard

Gates pants protection

Weight

16,2 kg

Stem

Humpert Ergotec Piranha 2, 31,8 mm, safety level 6

Handlebar

Humpert Ergotec Trekking, aluminium, 620 mm, safety level 6

Grips

Brooks Ergonomic Rubber Grips, with clamp

Shift lever

Rohloff

Brake lever

Shimano Deore XT BL-T8100, 3-finger-lever

Bereifung

Schwalbe Marathon Plus, 47-622, reflex

Rim

Ryde Andra 30 Disc aluminium double wall rim, 32 holes

Spokes

Niro DD 1,8 mm

Front hub

SON 28, hub dynamo, centerlock, 32 holes

Rear hub

Rohloff Speedhub 14-gear

Zahnkranz

Gates CDX, 20 teeth

Belt

Gates CDX

Inner bearing

FSA MegaExo 24 mm, BSA

Crank wheel set

Gates S550, aluminium, 170 mm, Gates CDX 55 teeth

Gear ratio (front:rear)

55 teeth : 20 teeth
Dealers list T-1987
Germany & France
Fahrrad XXL Emporon

Germany /01139 Dresden, Washingtonstr. 65, Tel. +49 351-288580

Radwelt Mitte RWM1 GmbH

Germany / 10243 Berlin, Warschauer Str. 31, Tel. +49 30-28096009, E-Mail service@radwelt.berlin

Velophil Fahrradhandel GmbH

Germany / 10555 Berlin, Alt-Moabit 72, Tel. 030-39902116, E-Mail team@velophil.de

BIKE MARKET GmbH

Germany / 18069 Rostock-Schutow, Hornissenweg 7, Tel. +49 381260556500, E-Mail info@bikemarket24.de

Fahrrad Pagel

Germany / 22111 Hamburg, Horner Landstr. 191, Tel. +49 40 6518386, E-Mail info@fahrrad-pagels.de

Alsterarbeit gGmbH

Germany / 22207 Hamburg, Postfach 60070, Tel. +49 40-50773607, E-Mail lars.hartig@alsterarbeit.de

Radundtat

Germany / 22765 Hamburg, Am Felde 2, Tel. +49 40-395667, E-Mail loops@radundtathh.de

Radschlag Fahrradhandel GmbH

Germany / 28203 Bremen, Humboldtstr. 16, Tel. +49 421-704105, E-Mail info@radschlag-bremen.de

conRad Fahrräder in Findorff

Germany / 28203 Bremen, Hemmstr. 124, Tel. +49 421-6203808, E-Mail info@conrad-fahrrad-findorff.de

biketime GmbH

Germany / 30179 Hannover, Alter Flughafen 7a, Tel. +49 511 6799 8300, E-Mail info@biketime.de

feine Räder / Udo Schwarz

Germany / 33098 Paderborn, Heiersstr. 24, Tel. +49 5251 4177 755, E-Mail paderborn@feineraeder.de

Radsport Schiffner GmbH

Germany / 33332 Gütersloh, Carl-Bertelsmann-Str. 53, Tel. +49 521-260 90 9800, E-Mail info@radsport-schiffner.de

Lucky Bike.de

Germany / 33649 Paderborn, Sunderweg 1, Tel. +49 521- 260 909 800, E-Mail info@lucky-bike.de

Velocity-Braunschweig GmbH

Germany / 38102 Braunschweig, Kurt-Schumacher-Str. 8-14, Tel. +49 531-12311820, E-Mail radhaus@velocity-bs.de

Feine Räder

Germany / 39108 Magdeburg, Liebknechtstr. 39, Tel. +49 391-8190416, E-Mail kontakt@feine-raeder-magdeburg.de

Arnos Bikestore

Germany / 41468 Neuss, Kölner Str. 444, Tel. +49 2131-2911218, E-Mail info@arnos-bikestore.de

Radkult GmbH & Co. KG

Germany / 48329 Havixbeck, Hauptstr. 45, Tel.+49 2507 988 9388, E-Mail info@radkult.net

Bike Park – Dissen

Germany / 49201 Dissen, Industriestr. 15-17, Tel.+49 5421 933 91 54, E-Mail info@avr-handelsgesellschaft.de

Radkult GmbH & Co. KG

Germany / 48329 Havixbeck, Hauptstr. 45, Tel.+ 49 02507 988 93 88, E-Mail info@radkult.net

Fahrradschmiede Bramsche

Germany / 49565 Bramsche, Osnabrücker Str. 12a, Tel. +49 5461 708 7300, E-Mail info@fahrradschmiede-bramsche.de

Bike Store Cologne

Germany / 50933 Köln, Aachener Str. 489, Tel. +49 0221-95799731, E-Mail md@muskelkatersport.de

Rad & Sport

Germany / 53340 Meckenheim, Auf dem Steinbüchel 2, Tel. +49 2225-700 354

Fahrrad XXL Feld GmbH

Germany / 53757 Sankt Augustin, Einsteinstr. 35, Tel. +49 2241-9773 10, E-Mail info@fahrradxxl-feld.de

Böttgen Fahrrad GmbH

Germany / 60385 Frankfurt/M., Große Spillingsgasse 8-10, Tel. +49 69-9451080, E-Mail info@fahrrad-boettgen.de

Fahrrad.de

Germany / 70174 Stuttgart, Friedrichstr. 6, E-Mail kim.hoehe@fahrrad.de

Rad + Tat GmbH

Germany / 76133 Karlsruhe, Waldstr. 58, 76133 Karlsruhe, Tel. +49 721 22238, E-Mail einkauf@radundtat.net

Zweirad Nübling

Germany / 79211 Denzlingen, Rudolf-Diesel-Str. 9, Tel. +49 7666 5078, E-Mail zweirad-nuebling@t-online.de

Werkstatt R 18

Germany / 80807 München, Wallensteinplatz 2, Tel. +49 89 3589 190, E-Mail einkauf@werkstattr18.de

Fahrrad-Herbst

Germany / 90478 Nürnberg, Harsdörfferstr. 9, Tel. +49 911 442072, E-Mail info@fahrrad-herbst.de

F R A N K R E I C H

Cyclable La Rochelle

France / 17000 La Rochelle, 8 bis quai Sénac de Meilhan, Tel. +33-983081725, E-Mail larochelle@cyclable.com

Cyclable ROCHEFORT

France / 17300 Rochefort, 8, avenue Marcel Dassault, Tel. +33-983081725, E-Mail rochefort@cyclable.com

Cyclable Tours

France / 37000 Tours, 20 rue Gambetta, Tel. +33-0247611893, E-Mail tours@cyclable.com

Cyclable sarl

France / 69009 Lyon, 26 rue Berjon, Tel. +33-472849267, E-Mail commandes@cyclable.com

Cyclable Le Plessis Bouchard

France / 95130 Le Plessis Bouchard, 160 Chaussée Jules Cesar, Tel. +33-1-3415796