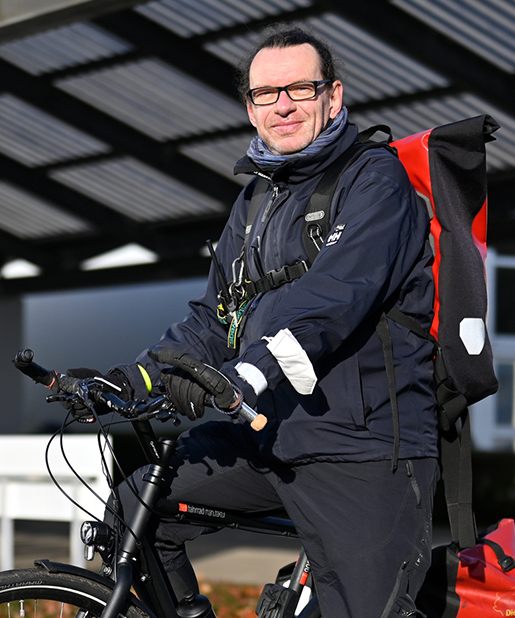 Jochen Hartz
Portrait of a bicycle person.
It' s often very little stories that make everyday life special. This certainly includes the coincidence of meeting an extraordinary person right outside your own door. That's exactly what happened to us: bicycle courier Jochen Hartz kept turning up at our company headquarters riding his T-900 model from our Trekking series. So we were bound to start talking at some point, and to include him in our "bike people" series – as a bicycle courier, but especially as a passionate rider.
A bicycle courier loves feeling the wind on his face.
Jochen Hartz is 54 years old and works as a courier for "Die OldenBoten" in our hometown Oldenburg. The best thing about his job? Cycling, of course, preferably through nature in good weather. But he enjoys riding in all kinds of weather. Whether on crunchy fresh snow in winter or through the buds of May, Jochen enjoys pressing the pedals whatever the season and feeling the wind against his face.

As a bicycle courier, he is on the road every day, transporting all sorts of packages through our beautiful city, in all kinds of traffic, wind and weather. Collecting packages and delivering them by the shortest route to the city centre or the suburbs, being flexible and fast: all this adds up to an average of 40 km on the odometer at the end of the day.
Of course, he needs a bike he can rely on (and not just for his job). Although Jochen has several bikes, it is the T-900 – one of two vsf fahrradmanufaktur models that he owns – that offers this reliability.
As a born-and-bred Bremener, the courier was able to follow the development of vsf fahrradmanufaktur in his hometown from the very beginning. It's a long time ago now that Jochen bought his first of our models, a second-hand touring bike from the TX series. "I am still very happy on that bike and like riding it. But I had been planning to buy a bike with a Rohloff gear hub for a long time; and that's why the T-900 was the obvious choice," he explains.
T-900 – low-maintenance and reliable thanks to Rohloff
The especially low-maintenance Rohloff Speedhub switches between its 14 gears excellently in all situations, has an outstanding service life and is perfectly suited to frequent riders like Jochen Hartz. Alongside the gear hub, the other fittings also appealed to him – for example, the Gates belt drive, hydraulic Shimano XT disc brakes, Busch & Müller LED lighting with parking lights, Racktime pannier racks and robust Pletscher rear stand.
"Panniers are essential for a courier. And for me personally, I couldn't do without the Shimano hub dynamo combined with LED lighting. The hydraulic disc brakes can be very finely controlled, offering reliable braking in all weathers.."
Jochen Hartz
Hop on the bike and relax.
Day in, day out, Jochen hops onto his T-900 – one of five bikes he calls his own. He never uses a car at all – neither at work nor in his private life. When asked why, he answers: "To be polemical: cars are loud and their nasty smell irritates me." But even though bicycles are neither loud nor smell of exhaust fumes, Jochen Hartz believes the benefits of cycling extend much further.
Early on, Jochen noticed that as he no longer needed a car, he had more money to spend in his free time than his car-owning friends. On top of this, cycling helped him to reduce stress. So the decision not to use a motorised vehicle and to use a bicycle was an easy one for him.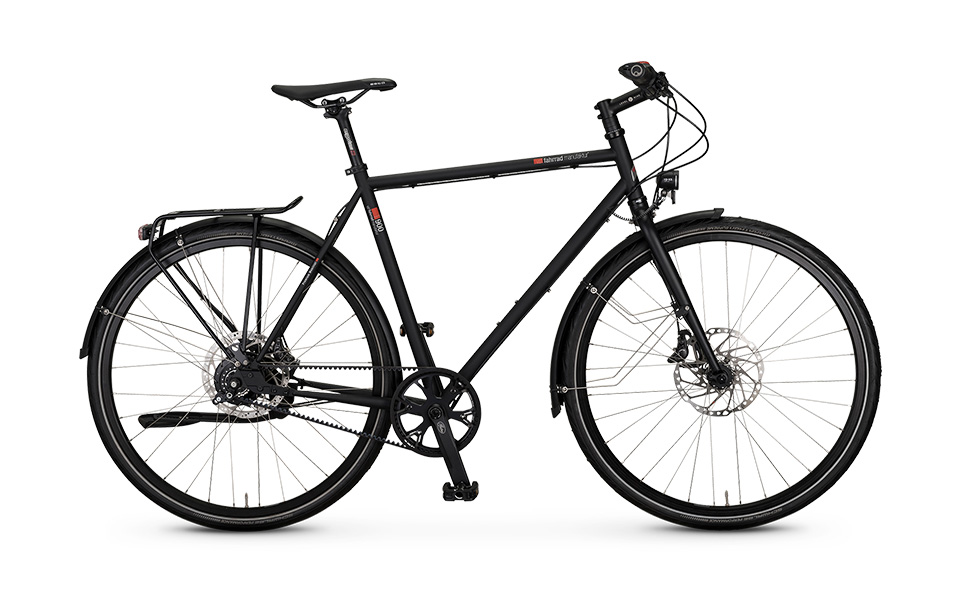 "Reliability is the be-all and end-all of bicycles!"
For Jochen, the reliability of the drive train, brakes and lights is essential to his trips as a courier. Enough reason, then, to buy a high-quality bicycle like the T-900, which scores highly for drive sensitivity, enormous braking power and particularly bright lights.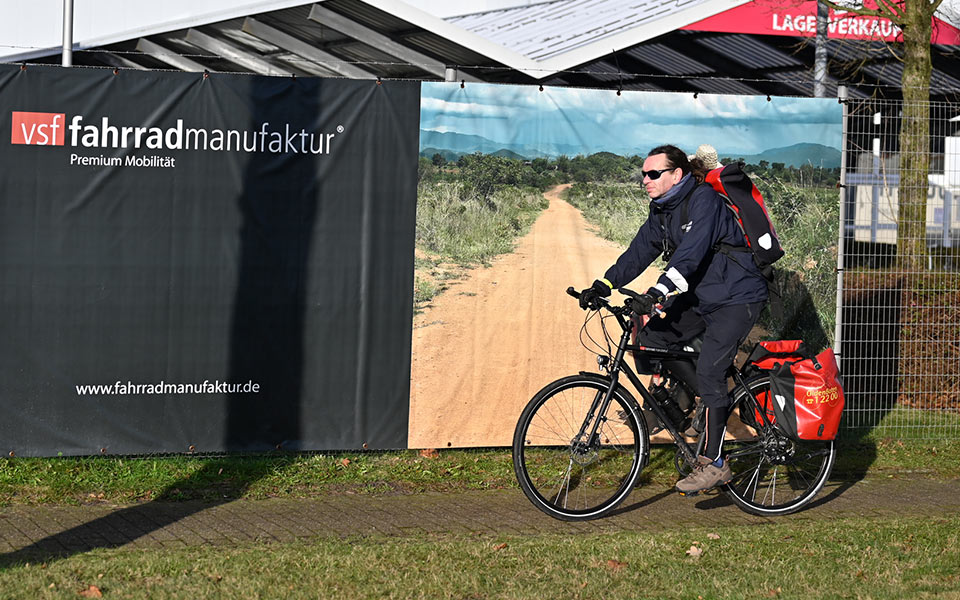 "There's no reason to look at another bike."
After more than a year on the T-500, Jens would always shell out a little more money to buy a sustainable, high-quality bike. Based on his experience, he would choose a bike from vsf fahrradmanunfaktur again in the future.
"I feel really good at the end of the day."
Jochen never lacks motivation. He knows that being mobile is good for him. That's why it was an obvious choice for him to turn his hobby into a job and spend his days on the T-900 – even if the infrastructure here and there leaves much to be desired and the weather isn't always pleasant.
"If I see the raindrops on the window in the morning and don't want to go out, I know that I'll hardly notice the rain after a bit on the bike and I'll feel really good when I've finished work."
His happiest moment on the bike? 11 kilometres of freewheeling!
Spending his working hours on his bike isn't nearly enough for the 54-year-old: he also spends most of his holidays on two wheels. It was on one of these trips that he experienced his favourite cycling moment: an 11-kilometre downhill stretch through the breath-taking scenery of Norway.
"Without once turning the pedals, I rolled from the pass right down to the fjord."
Jochen Hartz – a bicycle person