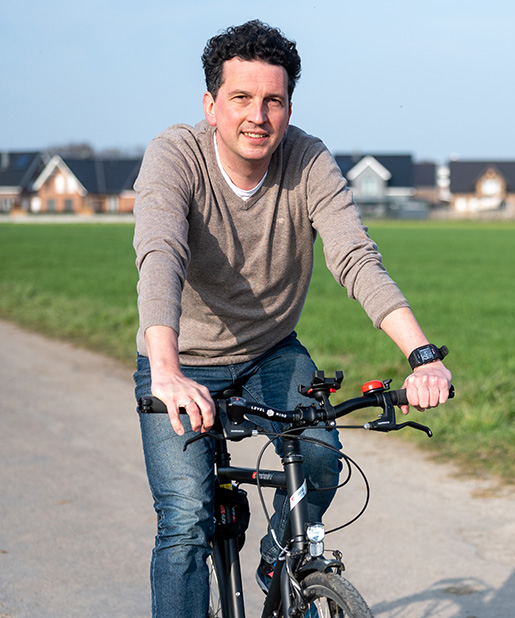 Jens Hagemann
Portrait of a bicycle person.
Starting with a customer of ours, Jens Hagemann, we are publishing a new series of small stories about "bicycle people". We're not talking about long-distance trips or top sporting performance, but about everyday experiences, important discoveries and interesting stories about unusual people for whom the bicycle plays an important role in their everyday life.
A school chaplain on tour.
41-year-old Jens Hagemann lives with his wife and three children in the Münster region. As a lay minister and school chaplain, he looks after several schools and also runs the "Schulseelsorge on Tour" (school chaplain on tour) YouTube channel. He has written a children's song influenced by cycling (Weltentdecker or "the explorer") and is working on publishing a children's book that also deals with looking at the world in new ways.
Like many others, in 2019 Jens was still one of those people who do nearly all their travelling by car. Commuting 12 km to work in Warendorf, shopping, getting the kids where they need to go and picking them up again, stopping off at the bakery – everything.
It was when Jens got stuck in traffic on a work trip to Münster and noticed that everyone else around him, including himself, was a sole occupant driver, that it all became clear to him. Something had to change. He resolved to use his bike more often from then on and got his old roadster out of the garage – only to discover that it was not, in many respects, up to his needs.
T-500 – sought and found.
Fully intending to buy a new bike for intensive use, he visited a few local dealers, with a set price range in mind. He looked at several great bikes before one dealer showed him the vsf fahrradmanufaktur T-500 trekking bike – even though it was a little over budget. Jens described what happened next in our interview:
"I just got on, rode off and immediately started smiling. I had never experienced that feeling before. It felt like every ounce of muscle power I put into the pedals was transferred immediately into motion. Then I looked at the price and called my wife, our family's chief financial officer – and luckily she liked the red bell."
Jens Hagemann
Definitely not an e-bike.
Jens deliberately decided not to buy an e-bike. On the one hand, his decision was based on the aspect of physical activity; on the other hand, Jens thinks it is important to feel – even in the rain or against the wind – that not everything in life is always easy and that you have to make a little effort in order to get anywhere. Where there's no other logistical option, for longer journeys, in very bad weather and for some tasks the family still uses the car. However, when the kids have left the nest, this will all change.
Several times Jens has caught himself standing, not in front of his car, but in front of his bicycle and talking shop about the advantages of cycling and the T-500. Jens emphasises, however, that he doesn't have a clue about either – cars or bicycles.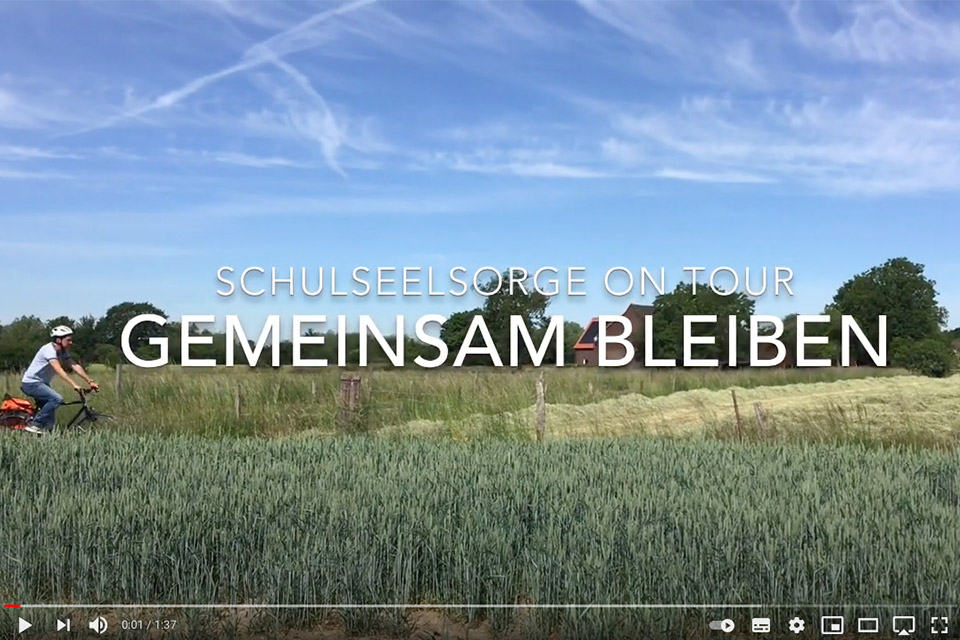 "Today, I don't see any reason to use the car for certain journeys."
And so, all the YouTube films in his "School chaplain on tour" series start and end with him on his bike. Jens is particularly fond of exploring his local area with others and is always discovering interesting, beautiful or unusual locations on his tours.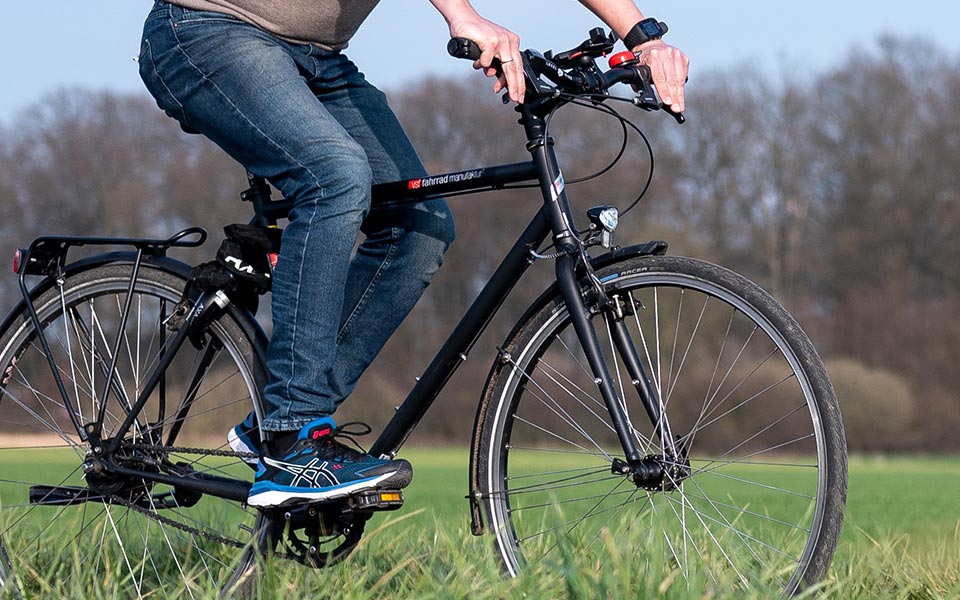 "There is no reason to look for a different bike."
After more than a year on the T-500, Jens would now always spend a little bit more to buy a sustainable, high-quality bike. Based on his experience, he would also choose a vsf fahrradmanufaktur bicycle in the future.
"Our children found it really silly at the start."
For more than a year, Jens has taken every journey within his hometown by bike, cycle-commutes to Warendorf and even takes professional trips to Münster on his two wheels. He leaves the car at home more and more often, which doesn't always please his children – it was difficult saying goodbye to the much-loved parent taxi for short trips.
Within a year, cycling has become the norm for Jens. While sport and fitness were one aspect of this, his respect for "God's creation", for nature, also plays an important role, as does the fact that the world offers the cyclist so much more than it offers drivers driving from A to B on the main roads. Jens Hagemann shares his experiences with the school classes and children in his care, encouraging them to explore the world by bike – including taking detours away from the routes they know and that everyone else uses.
By the way:
"Fast, easy to ride." This is his answer to the question of how he would describe his T-500. He liked the name vsf fahrradmanufaktur right from the start, as it conveys a sense of quality in the craftsmanship.
In any case, we wish this likeable school chaplain all the best on the road with his T-500.