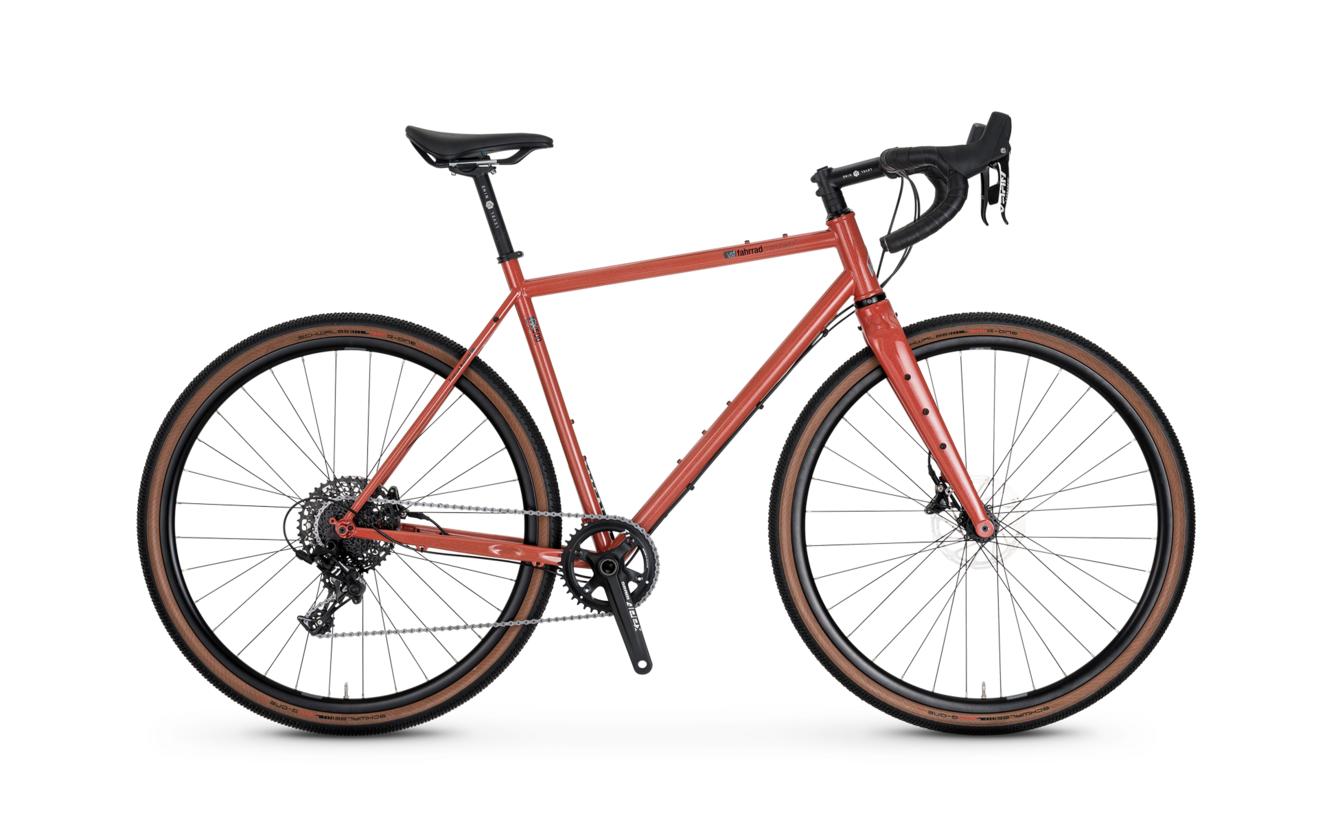 GX-500
Sram Apex XPLR 12-speed / Disc
This is where beginners step up. 
If you are looking for a high-quality entry-level model, the GX-500 gravel bike is just right. It brings everything you need for first gravel experiences: Especially important - the robust attachments from Levelnine including the gravel-specific handlebars, bring a high level of comfort and safety. 
For maximum serviceability, the shift and brake cable run on the outside of the frame. This makes maintenance or replacement particularly easy. For smooth switching performance, there is SRAM quality for ambitious beginners: with many features of the "bigger sisters" and a transmission range of more than 400%, the current Apex group does not need to shy away from comparison with high-priced groups. 
In addition, we have compiled a palette of 14 different colors, from which you can choose your individual favorite color.
Framesize

Diamant 28": 48, 51, 54, 57, 60 cm

Frame

25 CrMo 4, double butted

max load

120 kg

Colour

dry terracotta glossy

Head set

Acros AZX-228, 1 1/8"-1,5", External Cup

Fork

vsf fm Gravel 28" aluminum, 12 x 100 mm, Flatmount, tapered,

Shifting System

Sram Apex XPLR , 12-speed

Derailleur

- - -

Brakes

Sram Apex (front 160 mm / rear 160 mm), Flatmount disc

Headlights

- - -, - - - LUX

Rear light

- - -

Carriers

- - -

Saddle

Selle Royal SRX

Seat post

Ritchey WCS Carbon Link Flexilogic, 27,2 mm, 350 mm

Pedals

- - -

Kickstand

- - -

Chainguard

- - -

Mudguard

, - - -

Weight

11,5 kg

Stem

Levelnine, aluminum, 6°, (90 / 90 / 90 / 110 / 110 mm)

Handlebars

Levelnine Gravel, aluminum, Flare 12°, (440 / 440 / 440 / 460 / 480 mm)

Grips

Fizik Vento Solocush Tacky handlebar tape, 2,7 mm thick, black

Shift lever

Sram Apex, 12-speed

Brake lever

Sram Apex, 12-speed

Tires

Schwalbe G-One R, 45-622

Spokes

Niro 2,0 mm black

Front Hub

KT, 12 x 100 mm, Centerlock, 32 holes

Rear Hub

KT, 12 x 142 mm , Centerlock, 32 holes

Sprocket

Sram XPLR PG-1231, 12-speed, 11-44 teeth

Chain

Sram Apex, 12-speed

Inner bearing

Sram DUB, BSA

Crank wheel set

Sram Apex, 40 teeth, 170 mm

Gear ratio (front:rear)

40 teeth : 11-44 teeth

Technical changes and changes in equipment reserved, color deviations possible.
GX-500
Sram Apex XPLR 12-speed / Disc
Diamant 28"

48 cm / 51 cm / 54 cm / 57 cm / 60 cm
Standard colour *:
dry terracotta glossy
Price (incl. Vat.)
2,051.62 €
Getestet von Johanna Jahnke.
Johanna hat uns bei der Bike-Entwicklung mit großem Know how unterstützt. Dabei half ihre langjährige Erfahrung im Radsport und beim BikePacking, sportliche, ausgewogene Gravel Bikes zu konstruieren. Heute fährt sie das GX-1200 begeistert bei der QoM-Jagd, auf heimischem Terrain rund um Hamburg oder auf mehrtägigen Radreisen.
Top Einsteiger-Gruppe.
SRAMs APEX-Gruppe bietet erstaunlich hohe Qualität im Einstiegsbereich und eine Übersetzungsbandbreite von über 400%.
Wie bei den "Großen", überzeugt die Gruppe dank "X-Horizon-Geometrie" und "Roller Bearing Clutch" mit gleichmäßig, sauberen Schaltvorgängen.
Vorbau, Lenker, Sattelstütze? Levelnine.
Die robuste Sattelstütze und der steife Vorbau aus dem Hause Levelnine sorgen in Kombination mit dem speziellen Gravel-Lenker (Flare 12°) – ebenfalls aus dem Hause Levelnine – für ein hohes Maß an Komfort und Sicherheit.
Schnell. Breit. Geländetauglich.
Der Schwalbe G-One R (45 mm) garantiert Speed und Traktion im Graveleinsatz.
Dank Super Race Karkasse vereint der bewährt zuverlässige Gravel-Reifen ein besonders geschmeidiges Fahrgefühl mit Geschwindigkeit und Kontrolle auf höchstem Niveau.
So packt man das.
"Unterwegs zuhause?" – kein Problem!
Mehr als 20 Befestigungs- bzw Gewindeösen bietet der Stahlrahmen und somit unzählige Möglichkeiten ein Menge Zubehör, wie Taschen, Anything Cages oder Flaschenhalter zu montieren.
Stabil. Leicht. Robust.
Die bei uns in Oldenburg entwickelte, massive Alu-Gabel wird mittels Hydroforming aus einem Stück hergestellt. Die Gabel punktet mit geringem Gewicht und hoher Stabilität.
Zudem bietet sie Montagemöglichkeiten für Zubehör, eine Schutzblechaufnahme und eine integrierte Bremsleitungsführung.