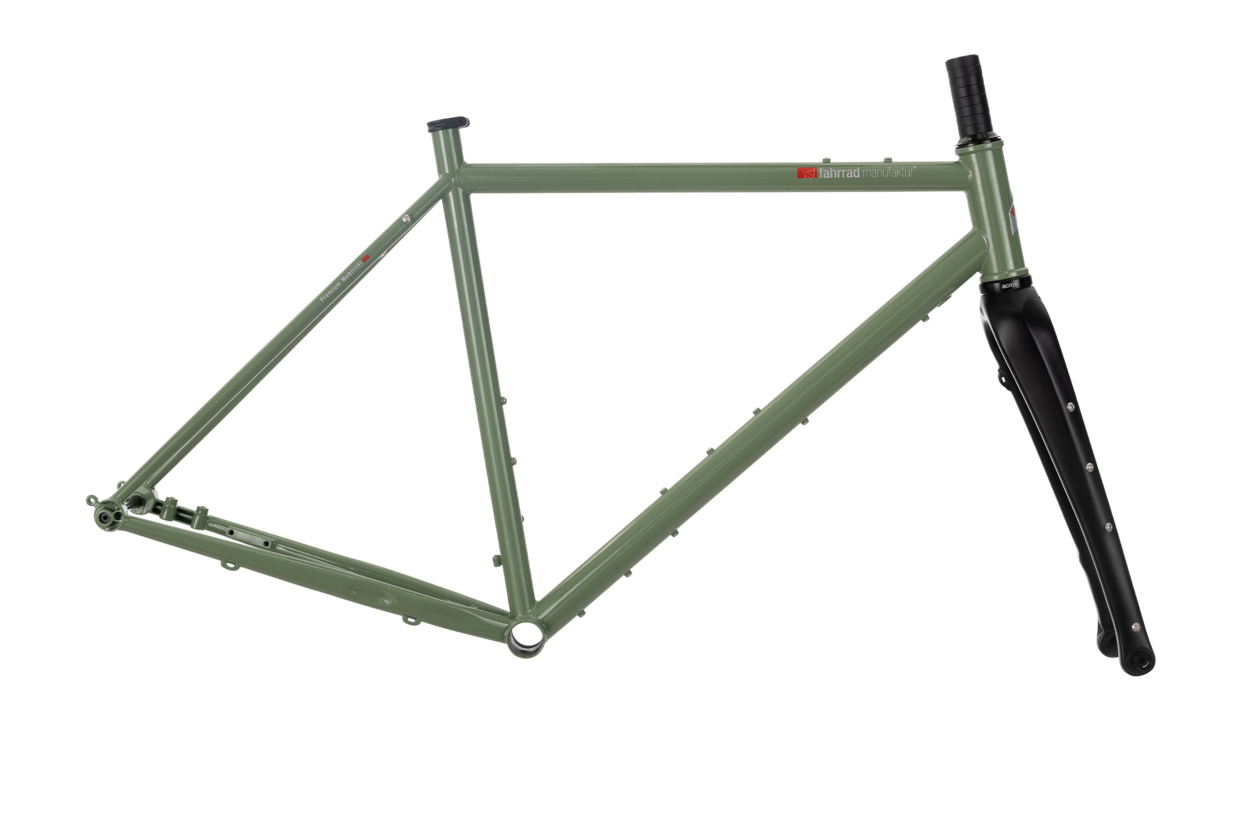 GX-900, Rahmen-Set
Rahmen-Set included Carbon-fork, headset, attachment parts
Feel the steel - anything but a "steel weight".
Per GX-900 frameset can be built thanks to the high-quality steel frame plus the Columbus Futura Cross Carbon fork as the basis of an individual high-end Gravel bike. The fork is with about 535 g one of the lightest on the market. In addition, the set offer more than 20 mounting options on the frame and fork - perfect for mounting water bottle cages, special bags or anything cages.
Another plus: The GX-900 frame is designed as standard for the use of a lowerable seatpost. For riders who want a lightweight bike for graveling and who value individuality, the GX-900 frameset is the ideal choice. From a palette of 14 colors you can customize your bike and assemble a truly unique gravel bike with matching components.
Framesize

Diamant 28": 48, 51, 54, 57, 60 cm

Frame

25 CrMo 4, double butted, 12 x 142 mm, flatmount

max load

120 kg

Colour

cool reed glossy

Head set

Acros AZX-228 R1, tapered

Fork

Columbus Futura Cross+, Carbon, 12 x 100 mm, Flatmount, tapered, integrated light line-and brake line guide,

Shifting System

N.V.

Derailleur

mounting clip diameter 29,8 mm

Brakes

N.V. Flatmount N.V.

Headlights

N.V., N.V. LUX

Rear light

N.V.

Carriers

retrofit, eyelets on the frame

Saddle

N.V.

Seat post

27,2 mm

Pedals

N.V.

Kickstand

retrofit, KSA40 rear kickstand attachment N.V.

Chainguard

N.V.

Mudguard

retrofit, rivets on the frame, N.V.

Weight

3,3 kg

Stem

N.V.

Handlebars

N.V.

Grips

N.V.

Shift lever

N.V.

Brake lever

N.V.

Tires

maximale Reifenbreite 47-622 oder 54-584 N.V.

Spokes

N.V.

Front Hub

12 x 100 mm

Rear Hub

12 x 142 mm

Sprocket

N.V.

Chain

N.V.

Inner bearing

BSA68

Crank wheel set

N.V.

Gear ratio (front:rear)

N.V.

Technical changes and changes in equipment reserved, color deviations possible.
GX-900, Rahmen-Set
Rahmen-Set included Carbon-fork, headset, attachment parts
Diamant 28"

48 cm / 51 cm / 54 cm / 57 cm / 60 cm
Standard colour *:
cool reed glossy
Price (incl. Vat.)
15,645,509.02 €
Getestet von Johanna Jahnke.
Johanna hat uns bei der Bike-Entwicklung mit großem Know how unterstützt. Dabei half ihre langjährige Erfahrung im Radsport und beim BikePacking, sportliche, ausgewogene Gravel Bikes zu konstruieren. Heute fährt sie das GX-1200 begeistert bei der QoM-Jagd, auf heimischem Terrain rund um Hamburg oder auf mehrtägigen Radreisen.
Columbus Futura Cross+.
Die Gravel-Gabel "Columbus Futura Cross+" mit praktischen BikePacking-Ösen ist nicht nur ein optisches Highlight, sondern mit nur ca. 535 Gramm eine der leichtesten Gravel Carbon Gabeln am Markt.